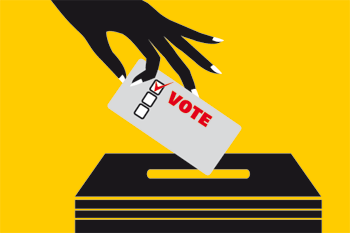 The new regional mayors are the products of deals done 'behind closed doors' and are therefore 'worrying', warns academic.
Elections in six combined authority areas today will see directly-elected mayors chosen for the first time, as part of the Government's devolution agenda.
However, Dr John Stanton, a senior lecturer in the City Law School specialising in local government and devolution issues, has argued the introduction of directly-elected mayoral positions is 'potentially worrying'.
He argued that since the Local Government Act 2000 was introduced there have been 53 referenda on the idea of directly-elected mayors and only 16 saw a vote in favour.
Dr Stanton, in an article on the City, University of London website, said this was the reason why residents in the areas now electing the new metro mayors were never given the opportunity to have a referendum on the new position.
'It is, instead, a product of deals done behind closed doors between councillors and representatives of central Government,' he writes.
'Elect a metro-mayor and you will enjoy a wealth of newly devolved powers, councils have been told.
'The mass introduction of directly-elected mayoral positions that will come from this week's elections, therefore, is potentially worrying.
'Theresa May's reported scepticism of their adoption notwithstanding, it is troubling that the Government has consistently seemed so keen to introduce these new mayors, despite a clear message from the people.'
In conclusion, Dr Stanton added: 'The further introduction of directly-elected mayors this week, therefore, will be a notable event in the development of English local government, but it also highlights that we need to go much further if we are to correct the problems that have long hindered the realisation of local democracy.'