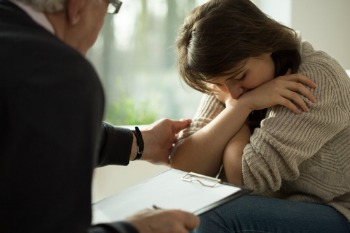 The number of people being detained under the Mental Health Act has risen by 40% in the past decade, new figures have revealed.
A report from the Care Quality Commission (CQC) found the number of detentions increased from 45,484 in 2005/06, to 63,622 in 2015/16.
It warned that while the increase could be attributed to a number of factors such as better reporting and population growth, it may be symptomatic of a system 'under considerable strain'.
Dr Paul Lelliott, deputy chief inspector of hospitals (lead for mental health) at the CQC, said: 'Some of the factors at play in the rising rates of detention, both nationally and locally, are also signs of a healthcare system under considerable strain.
'Detentions under the Act can be influenced by gaps in support and provision in the system. This includes limited hospital bed availability, which means that people cannot easily be admitted as voluntary patients early in the course of their illness. This is a particular problem if it is coupled with limited support for people in the community, which can prevent a person's mental disorder from deteriorating to a point that detention under the Act is necessary.'
The report found no evidence that professionals were misusing the system in any way.
The Local Government Association said the figures were 'indicative of a system that is under strain because of increased demand and reduced funding'.
Cllr Izzi Seccombe, chairman of the LGA's Community Wellbeing Board, said: 'Councils need adequate funding to enable them to fully play their essential part in the mental health system.
'This is why we are calling for councils' public health grant funding – which has been reduced by £531m between 2015/16 and 2019/2020 – to be reversed, which will support the £1bn being invested in the NHS by 2020 to address mental health issues.
'There needs to be a re-focus in mental health policy away from medicalisation and mental ill health to prevention, early intervention and mental wellness.'