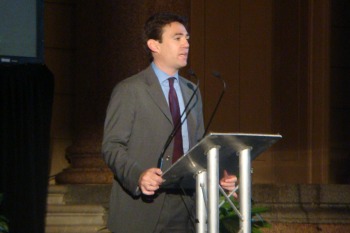 Two North West metro mayors have called on transport secretary Chris Grayling to terminate the Northern rail franchise 'as soon as possible'.
Greater Manchester mayor Andy Burnham and his Liverpool City Region counterpart Steve Rotheram said they were 'speaking on behalf of the 4.3m people they represent' and 'believe Northern has consistently failed to show they are able to take the action required to restore public confidence or deliver their legally-binding franchise requirements'.
They said they were urging the Department of Transport to implement an 'Operator of Last Resort' and bring in a new board and team of directors to run the company as soon possible.
The call comes 12 months on from last May's rail timetable chaos and follows regulator the Office of Rail and Road reporting that the firm was responsible for a significant part of a fall in punctuality and reliability on the national rail network.
Mr Burnham said: 'We have been extremely patient with Northern but enough is enough. They promised us that things would be significantly better by May 2019 and that hasn't happened.
'Train services across Greater Manchester and the North West remain unreliable and over-crowded. Sunday services are still subject to widespread cancellation and promises of new rolling stock have not been kept.'
The two mayors said that more broadly the Government should work with Transport for the North (TfN), Transport for Greater Manchester and Merseytravel, 'to work towards a new vision for rail in the North of England that puts passengers first'.
TfN chief executive Barry White did not support the call for Northern to be stripped of its franchise. He said: 'We continue to monitor and scrutinise Northern's performance through our role in the Rail North Partnership.
'A lot of work and planning has ensured last week's timetable change wasn't a repeat of last year's chaos. But we're still not happy with overall performance on the network.'
The mayors, who sit on TfN's Rail North board, said ministers should keep all options on the table, including further devolution to the North and the option of public operation.
David Brown, managing director at Northern said: 'Since last year, we have made a large number of improvements for customers – including better punctuality, investment in new and refurbished trains, over 2,000 new services and hundreds more people employed to help customers.
'These improvements are still a work in progress – but we are making things better for our customers. We want and expect things to continue to improve.'