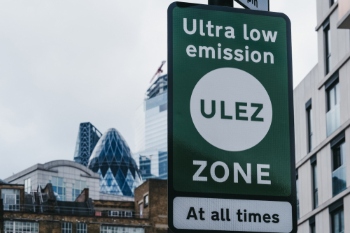 A consultation on plans to expand the Ultra Low Emission Zone (ULEZ) to cover almost the whole of London has been launched as part of the effort to improve air quality and reduce traffic congestion across the capital.
The Mayor of London and Transport for London (TfL) argue that further action is required to tackle the capital's toxic air crisis, the climate emergency and traffic congestion.
Around 4,000 premature deaths in 2019 were attributed to filthy air, with the greatest number in outer London areas such as Bromley, Barnet, Havering and Croydon, according to TfL. All Londoners live in areas that breach the World Health Organization (WHO) target for particulate matter and nitrogen dioxide.
Traffic congestion is also a persistent problem in the capital. Last year, the cost of congestion to the London economy was estimated to be £5.1bn. Two thirds of this cost have been attributed to traffic delays in outer London.
The proposals to expand the ULEZ London-wide on 29 August 2023 would see the zone expanding up to the current LEZ boundary covering almost the whole of London. There would be a daily charge of £12.50 if you drive within the zone in a non-compliant vehicle and it would be in operation all year round, apart from Christmas Day.
The Mayor argues that in the short term, expanding the ULEZ London-wide will have the biggest effect on emissions relative to the cost to Londoners as a whole, as well as helping to tackle the climate emergency and traffic congestion.
If a larger ULEZ were introduced, it is estimated that the number of cars not meeting the tough ULEZ standards each day in outer London would fall from 160,000 to 46,000 and the number of vans from 42,000 to 26,000.
These proposals would also mean the air around an additional 145 schools, mostly in outer London, would meet the interim WHO target for nitrogen dioxide. The changes would also see a further 340,000 Londoners living in areas meeting these international health-based standards.
Mayor of London Sadiq Khan said: 'The air Londoners breathe is so toxic it stunts children's lungs, exacerbates chronic illness and contributes to thousands of premature deaths each year. More than half of the 500,000 Londoners with asthma live in outer London and all areas of London still breach safe levels of pollution.
'That's why my proposals for expanding the Ultra -Low Emission Zone are the right thing to do. Air pollution is not just a central London issue and Londoners in the outer boroughs should be able to enjoy the clean air benefits the ULEZ brings.'
Alex Williams, TfL's director of city planning, commented: 'It's clear that the capital's toxic air is continuing to blight the lives of Londoners and progress in outer boroughs is slower than anywhere else.
'The number of premature deaths and current projections for diseases linked to poor air quality is unacceptable. We must act at pace to tackle this, which is why we are proposing to expand the ULEZ London-wide next year and are looking at the longer-term solution of a new form of road user charging. We would encourage people to respond to this consultation to help shape our plans.'