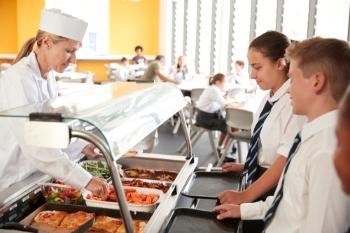 Mayor of London Sadiq Khan has urged the Government to extend provision of healthy free school meals to all primary school children to help with the 'perilous economic times'.
According to official Government figures, the proportion of all pupils eligible for free school meals increased over the last 12 months from 20.8% in January 2021 to 22.5% in the same month this year.
Schools currently receive £2.34 per meal for infant children. If the funding allocation had risen with inflation each year, it would have been worth £2.57 in 2021/22.
A number of local authorities in London already provide free healthy school meals for all primary school pupils in their areas.
Mayor Khan is now urging the Government to provide the funding for this to be universal during term-time with free meal vouchers available for those in most need during the school holidays.
'Free school meals were something my family relied upon – and every child in London deserves that safety net,' he said.
'With the summer holidays on the horizon it is essential that the Government act now to reinstate the meal voucher system to give families dignity and nutritional choice over the summer. This should then be followed by the introduction of universal free school meals for all primary school children from the start of the new school year in September.
'Multiple London councils are already leading the way on this and showing what can be done if we put the health and wellbeing of our young people first in such perilous economic times. It is time for the Government to step up.'