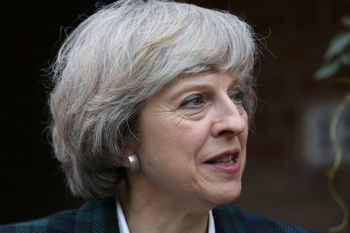 Theresa May is to chair a cabinet committee focusing on social reform in order to make Britain 'better for everyone, not just the privileged few.'
In her position as chair of the Social Reform Cabinet Committee, the prime minister said she will focus on social policy reforms and increasing social mobility.
'At the same time as helping the most vulnerable, we must pursue social reform in a much broader sense to help make life easier for the majority of people in this country who just about manage,' the PM said.
'You might have a job but you don't always have job security. You may have your own home, but you worry about paying a mortgage. You can just about manage but you worry about the cost of living and getting your kids into a good school.
'So while we continue to help the worst off, we will also be focused on the millions of people for whom life is a struggle and who work all hours to keep their heads above water.'
The announcement follows Theresa May's first statement as prime minister, where she characterised David Cameron's term in office as a 'one-nation government' and stated she would continue his legacy.
'David's true legacy is not about the economy but about social justice,' she said.
'From the introduction of same-sex marriage, to taking people on low wages out of income tax altogether; David Cameron has led a one-nation government, and it is in that spirit that I also plan to lead.'
Downing Street also ordered an audit into racial disparities in public services last month, which will allow people to see how their race affects how they are treated on key issues such as health, education and employment.
This audit was in response to an Equality and Human Rights Commission (EHRC) report - Healing a Divided Britain - which warned the failure to tackle deep-rooted race inequality and the post-Brexit rise in hate crime risks increasing race tensions.