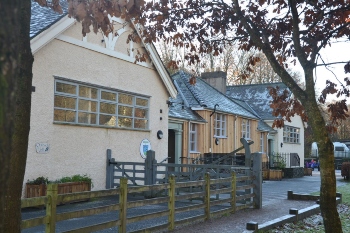 The roadmap to green recovery can seem intimidating for smaller public sector institutions, especially as eco-friendly implementations can seem costly. However, local infrastructure fixtures can be the small steps which suddenly generate marginal gains and create significant behavioural change.
A small school in rural Cumbria is setting an example for other institutions to improve their carbon emissions. Over the last decade, Leven Valley Primary School has demonstrated its commitment to reducing the carbon footprint of its estate, creating a sustainable, heat-efficient environment and preparing for the decarbonisation of heat.
Small steps towards big changes
I inherited the building 14 years ago, which was effectively a temporary structure built in 1928. The first step towards reducing carbon emissions and saving money for the school was to improve its insulation. Wherever possible, we tried to use natural materials, such as hemp based insulation. If there wasn't a natural material, we turned to recycled or sustainable waste product based solutions.
Over the years, the school has insulated all its walls internally and externally, as well as replacing old glazing by double glazing.
The next phase has involved implementing LED lighting throughout the school and installing 24.8 kilowatts of solar panels on the roof, as well as well as replacing old oil boilers with a ground source heat pump (GSHP) last August.
The latter was able to be carried out as the estate has an ideal soil for a project requiring 10 x 100m deep boreholes to be drilled for the pipe work to feed into the GSHP. The GSHP uses more electricity than the oil based system they had before. However, the solar PV system previously installed allows the school to generate some of the power needed and the rest is acquired through a renewable energy supplier.
This ground source heat pump project is expected to save Leven Valley an estimated £5,110 per year and reduce carbon emissions by 77%.
We're hoping to encourage more schools to think about what they can do differently, one step at a time. We have had enquiries about what we're doing and how we're doing it off the back of us receiving funding from Salix Finance to install the GSHP. I believe at the time we were the first and only school to be to be awarded the grant for a ground source heat pump. Installing such a pump is expensive, more than just replacing oil boilers, but it results in significant carbon reductions and will hopefully prove to be a good long term investment.
Being awarded the grant, was the first time an outside organisation (Salix) recognised what we've been working towards for the past 14 years and it is great to have had that support and recognition.
Sinead Desmond, programme manager at Salix, added: 'We're delighted to see Leven Valley implementing so many carbon reduction measures and we're pleased to have been able to support them with the delivery of multiple energy-saving technologies. The school is a great example of how smaller public sector organisations can pave the way to a sustainable future, one implementation at a time. Like a jigsaw puzzle, each project helps the next one.'
Next moves
Leven Valley's series of energy-efficiency improvements highlight how small institutions can put small adjustments into effect throughout the years to not only change eco behaviours locally, but to also contribute to the country's collective net zero target.
The school is next hoping to install a micro hydro scheme. This would generate sufficient electricity to supply the heat pump in combination with the solar panels and make it a very real possibility for Leven Valley to become self-sufficient for electricity.
Further to this, Leven Valley School's carbon reduction strategy does not limit itself at saving energy and money - it also aims to create a green learning environment for the school's 60 children - including his own - and its staff. We've always felt it's really important for children to come into contact with natural materials.
In the future, I would also like to install car charging points to encourage staff to think about electric vehicles, as well as replacing the school's minibus with an electric model.
Ian Nicol is head of Leven Valley Primary School