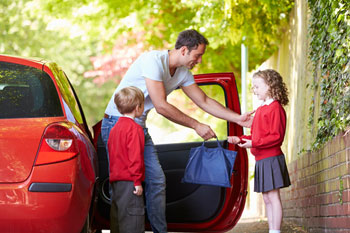 An estimated 90% of pupils were offered a place at their first choice of primary school this year following the creation of hundreds of thousands of new places by councils.
The new figures, released yesterday by the department of education, also revealed that 97.2% of pupils were offered a place at one of their top three schools last year.
The Government argued the high figures in what is known as the 'national day offer' were the result of the creation of 825,000 new school places since 2010, with 90,000 more over 2016-17 alone.
'This morning, thousands of pupils and their parents will find out which primary school they will be going to this September,' said school standards minister Nick Gibb.
'Thanks to our reforms and the hard work of teachers, academic standards in our primary schools are rising across the country.'
According to the department of education, the gap between disadvantaged pupils and others in a combined measure of English, reading and mathematics has decreased in each of the last six years, narrowing by 1.3% in the latest year and 10.5% since 2011.
Commenting on the new figures, cllr Roy Perry, vice chairman of the LGA's Children and Young People Board, said: 'Over recent years councils have created an extra 600,000 new places.
'This is a demonstrable record that they are doing everything they can to rise to the challenge of ensuring no child goes without a place.
'Every child should have a fair chance of getting into their parents' preferred school and councils and schools work extremely hard to try and ensure that as many pupils as possible are allocated their first preference.'