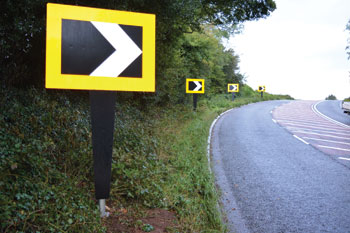 Potholes. Everyone has an opinion. Local newspapers are often deluged with stories of unhappy road users with punctured tyres, damaged wheels and suspension or worse as a result of a modern-day and very first-world scourge. Insurance companies and local authorities are often at loggerheads over responsibilities and liabilities, and who should carry the cost.
One cycling charity claimed that UK councils have paid out some £43m in compensation claims over the last five years, and that is in raw costs alone; it does not take into account the council employees' time for handling each case.
Such has been the media backlash that many local authorities have been forced to take action, using up scant resources (council spending on highways and transport has fallen by almost 40% over the last six years according to NAO official statistics) to patch and mend, often on a seemingly random and ad-hoc basis, to prove that the voice of the consumer is being listened to, and something is being done.
The Gov.uk website has a dedicated 'report a pothole' section, and details of how you can claim compensation for injuries caused by roads in a poor state of repair. There is even an organisation known as fillthathole.org.uk to make it easier to report potholes and road defects and claim that 'councils are often quick to respond'.
But whereas local councils may indeed be 'quick to respond' when alerted to a pothole, they do not always appear to show the same alacrity when it comes to repairing and maintaining road signs, and specifically those electronic signs that warn of potential dangers or obstacles ahead. Vehicle Activated Signs (VAS) and Variable Message Signs (VMS) are increasingly being used at dangerous junctions to prevent serious accidents, or to warn of flooded roads and low bridges to keep the UK traffic moving safely on the roads. But even the best technologies can sometimes go wrong, especially if they are not regularly serviced and maintained. The trouble is, you won't know there's a problem until they fail to work, and by then it may be too late.
There is a recent example concerning a bridge in Leicestershire. VAS were installed on various approach roads to the bridge, to divert high-sided vehicles away from the danger. Unfortunately, the signs failed to work when they were most needed, allegedly through lack of maintenance, causing yet another vehicle to strike the bridge, with the resultant chaos that ensued. Roads were closed, obliging local traffic to take lengthy detours. Local businesses were affected, and the media swift to point the finger of blame. The point of this example, however, is that this incident was thoroughly avoidable and need not have happened at all.
There is no doubt councils are faced with a Hobson's choice when it comes to making decisions on where budgets are spent. There is only so much money in the coffers. But whereas money always seems to be available for the larger, capital projects, and through various parties from the Highways Agency through to local developers, budgets are harder to come by for ongoing maintenance and repair, and it often seems to be a case of 'he who shouts loudest gets heard'.
What is needed is a radical re-think on how budgets are set aside for ensuring digital road signs are always performing on the top line, and don't let you down when they are needed. There also needs to be further thought given to signage equipment obsolescence and having a clear strategy for future upgrades. Failing to do so could end up costing you much more than you bargained for.
Andrew Walker is business development manager at Swarco Traffic Ltd