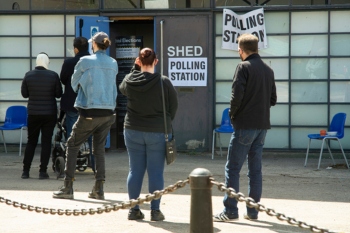 The Government's voter ID plans should be paused to determine if the measures are 'fit for purpose', MPs have warned.
The Public Administration and Constitutional Affairs Committee said the case for requiring voters to show photo ID at polling stations has 'simply not been good enough'.
It highlights that similar measures in Northern Ireland led to a 2.3% reduction in voter turnout when first introduced and trends have not been monitored since then.
The report also said the Bill could give Downing Street more power over the Electoral Commission which 'risks undermining public confidence' in the watchdog.
Chair of the Committee, William Wragg, said: 'We feel that the Elections Bill proposals lack a sufficient evidence base, timely consultation, and transparency, all of which should be addressed before it makes any further progress.
'We cannot risk any reduction of trust in UK elections, which is why the majority of the Committee is calling for the Bill to be paused to give time for more work to be done to ensure the measures are fit for purpose.'
A DLUHC spokesperson said: 'We should not be complacent when it comes to ensuring our democratic process remains secure. Our Elections Bill will stamp out the potential for voter fraud, and will bring the rest of the UK in line with Northern Ireland, which has had photo identification to vote in elections since 2003.
'The UK government will be providing additional funding to cover the costs of implementing our reforms, and voters who do not have one of the required forms of photographic identification can apply for a free local Voter Card.'
Photo: GarethWilley / Shutterstock.com