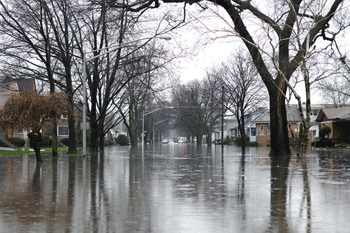 The Government needs a better understanding on whether funding allocated to local authorities to prevent flooding is matching local risks, MPs have warned today.
A new report from the Public Accounts Committee warned increased housing development and the impact of climate change will continue to increase the UK's flood risks.
However, it found that local authorities are being forced to spend more on managing local flood risks than they are allocated through the funding formula. It argued the Government needs a better understanding on why spending varies so much across individual authorities and whether the formula for allocating accurately reflects its level of flood risk
The report also found that only half of the defences damaged in the 2019-20 winter floods have had their standard of protection restored.
Meanwhile, the Environment Agency (EA) believes there could be an increase of up to 50% in the number of houses built on flood plains over the next 50 years, despite government policy not to build on flood plains 'unless unavoidable'.
The report also argued that Defra has not addressed the problem of prohibitive insurance costs imposed on the recently flooded or removed the obstacles to households taking up their own flood resilience measures.
Meg Hillier, chair of the committee, said: 'With public finances stretched to the limit, Government and the Environment Agency have to do more to make sure limited funds for flood defence and risk management are spent effectively. The risks to our homes, businesses, national infrastructure, food supply and whole ecosystems are not even being properly monitored, much less strategically mitigated.
'You can see the next major housing and building regulations scandal brewing here - the Government is simply not doing enough to protect the UK's current housing stock from floods or stepping in to prevent new homes being built on flood plains, and more needs to be done to tackle the prohibitive home insurance costs that result.'
Cllr David Renard, environment spokesperson for the Local Government Association, said: 'We are pleased the inquiry highlights the need for better understanding of whether funding to each local authority matches the level of flood risk it faces.
'It is also good that the Committee has taken on board the LGA's suggestion that building regulations should include mandatory flood protection measures in new builds such as raised electrical sockets, fuse boxes and sealed floors.'
A UK Government spokesperson said: 'As the report recognises, we are investing a record £5.2bn in 2,000 new flood and coastal defences between 2021-27, better protecting 336,000 properties and building on the significant progress already made to respond to climate change.
'We are making sure support is targeted where it is needed most with households in the most deprived areas of England qualifying for funding at over twice the rate of the least deprived areas. We are also consulting on changes to Flood Re, to increase the availability and affordability of flood insurance for homes affected by flooding.'