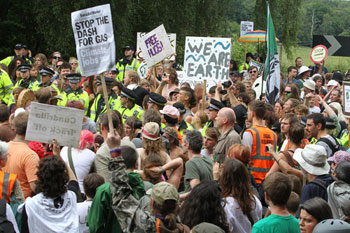 An influential committee of MPs has called for a moratorium on fracking because it could hamper climate change efforts and pose significant health risks.
Members of the environmental audit committee today warned extraction and burning of shale gas in Britain 'cannot be compatible' with long-term commitments to cut emissions of greenhouse gases.
The cross-party group also pointed to 'huge uncertainties' about the hazards fracking poses to health, biodiversity, and groundwater and air quality.
The news marks a further setback to the industry, after Lancashire County Council planning officers last week recommended turning down applications from Cuadrilla to drill local exploratory wells. West Sussex County Council last July refused an application by Celtique Energy to launch a three-year long search for oil and gas near a local village.
Prime minister David Cameron has long-supported the process, declaring the Government is 'going all out for shale' and pledging business rates support for councils who support exploration.
Members of the environmental audit committee today accused the Government of trying to 'rush through' plans to allow companies to frack under people's homes without permission in the Infrastructure Bill, which goes in front of the House of Commons today.
'Ultimately fracking cannot be compatible with our long-term commitments to cut climate changing emissions unless full-scale carbon capture and storage technology is rolled out rapidly, which currently looks unlikely. There are also huge uncertainties around the impact that fracking could have on water supplies, air quality and public health,' committee chair, Joan Walley, said.
'We cannot allow Britain's national parks and areas of outstanding natural beauty to be developed into oil and gas fields. Even if a national moratorium on shale drilling in the UK is not accepted there should be an outright ban on fracking in such special sites.'
Chief executive of the fracking industry body the UK Onshore Operators Group, Ken Cronin, said: 'This rushed report ignores the fact that gas is not just a source of electricity but has a major impact on everyday life with respect to products we use, to heat our homes, the cooking we do and the jobs it sustains in industry.'
A spokesman for the Department of Energy and Climate Change said: 'We disagree with the conclusion of this report. We have one of the most robust regulatory regimes for shale gas. UK shale development is compatible with our goal to cut greenhouse gas emissions.'
'UK shale development is compatible with our goal to cut greenhouse gas emissions and does not detract from our support for renewables, in fact it could support development of intermittent renewables.'
Photo: Randi Sokoloff/Shutterstock.com