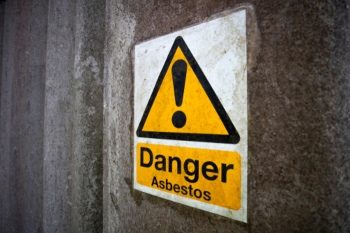 Asbestos should be removed from all public and commercial buildings within 40 years, MPs have argued today.
The Work and Pensions Committee has warned there are thousands of deaths every year from past exposures, with this risk only likely to increase as buildings are adapted in response to net zero ambitions.
The committee is calling on the Government to commit to a strategy to remove all asbestos from non-domestic buildings, arguing current regulations are not good enough.
The report also calls for the Government and Health and Safety Executive (HSE) to strengthen the evidence base on safe and effective asbestos removal and prioritise removal from the highest risk settings.
Stephen Timms, chair of the Work and Pensions Committee, said: 'Asbestos is one of the great workplace tragedies of modern times and while the extreme exposures of the late twentieth century are now behind us, the risk from asbestos remains real.
'The drive towards retrofitting of buildings to meet net zero aspirations means the risk of asbestos exposure will only escalate in the coming decades. Falling back on regulations which devolve responsibility to individual building owners and maintenance managers will not be sufficient to protect people's health.
'Setting a clear deadline of 40 years for the removal of asbestos from non-domestic buildings will help to focus minds.'
Figures show there are still around 300,000 non-domestic buildings that have asbestos in them.