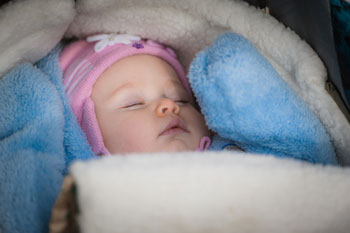 MPs have called on local authorities to develop plans to help improve support for children during the first 1,000 days of life.
The period from conception to age two is a critical phase during which the foundations of a child's development are laid, with more than a million new brain connections made every second.
A 2017 study in The Lancet found that people who experienced at least four adverse childhood experiences during this period were more likely to get heart disease, cancer and many mental health problems than those with no such experiences.
A new report from the Health and Social Care Committee has called on the Government to kick-start an 'early years revolution' to improve support and services for children, parents and families during this critical time.
'There is a crisis in children's mental health in this country. But all we are seeing are cuts to health visiting, children's centre closures and increasing child poverty,' said Dr Paul Williams.
'Government must now show inspiring leadership to help children get the best possible start in life.
'If our country is serious about prevention and reducing health inequalities then we must make massive investments and drive coordinated action right at the start of life.'
Whitehall should produce?a long-term strategy,?setting?goals to reduce adverse childhood experiences, improve school readiness and?reduce infant mortality?and child poverty, the report argues.
This should be led by the minister for the Cabinet Office, with the support of a small centralised delivery team, and local authorities should produce plans alongside the local NHS, communities?and the voluntary sector to implement this strategy.
The committee also calls on the Government to expand the Healthy Child Programme to focus on the health of the whole family.
It argues it should begin before conception, deliver a greater continuity of care for children, parents and families during this period and extend visits beyond age two and a half years.
The committee also recommended the Government should develop a programme which children and parents in need of targeted support can access, building on the Flying Start programme in Wales and the Family Nurse Partnership in Scotland, Northern Ireland and parts of England.
Cllr Ian Hudspeth, chairman of the Local Government Association's Community Wellbeing Board, said: 'The importance of early intervention and prevention services for children and families cannot be overstated and this report rightly recognises the crucial support provided by councils, and the significant financial constraints they are under.'
'Despite facing an overall funding gap of £8bn by 2025, councils still spent more on those aged 0-5 than in any other area of public health, often exceeding the amount given to them by government,' he continued.
'There has also been a 20% drop in the number of health visitors since 2015, when responsibility was transferred to local government without enough funding to grow the workforce and pass on the necessary skills.
'Councils need well-trained, highly skilled health visitors and public health nurses and we support the report's call for a holistic workforce plan for the first 1,000 days of a child's life, which must be well resourced.'