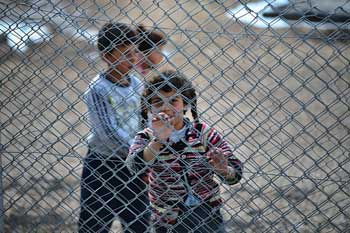 A group of Tory MPs have urged home secretary Amber Rudd to to ensure that unaccompanied children with family connections in Britain are moved out of the 'Jungle' refugee camp in Calais before it is torn down.
Former education secretary Nicky Morgan is among signatories to a letter calling for the government to do more to find a legal and safe way to save children from people traffickers.
It comes just days after French president François Hollande vowed to shut down the camp in Calais within weeks and move its 9,000 residents to 140 centres across France.
The Local Government Association (LGA) has called on the French authorities to speed up the processing of more than 4,000 lone child asylum seekers in the Calais camp and settle them in new homes or reunite them with their families.
The MPs relate the story of a 14-year-old boy who died in Calais when he fell off a truck while trying to reach the UK where he had a legal right to be with his brothe.
They write: 'We know how seriously you take this issue and we want you to know you have our full support to act to ensure these children learn their legal rights to be with their family and get to be with them safely and quickly.'