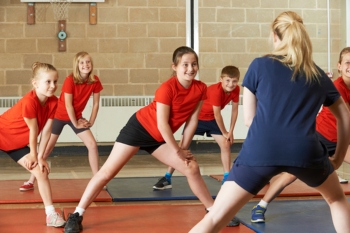 The Government should encourage children to become more active by launching a sports equivalent to the '5 A Day' campaign by the end of this year, MPs have said today.
A new report from the Digital, Culture, Media and Sport Committee warns the fall in the number of children being active enough last year is 'of significant concern' and it's unknown yet the impact of the third lockdown on people's fitness.
The report calls for a new 'Work Out to Help Out' campaign to encourage children to children to be active for 60 minutes a day.
It also funding models for grassroots sports should be revised as the pandemic has left them in a 'precarious' situation, with several clubs at serious risk of closing.
Julian Knight, chair of the committee, said: 'Community sports clubs nurture Olympic medallists and bring joy to people young and old, we cannot let them go to the wall. That is why delays to support schemes such as the Community Ownership Fund are so disappointing and unhelpful.
'Today we've made recommendations to the Government on how to better protect the spaces we exercise in and put grassroots sport on a more sustainable financial footing.'