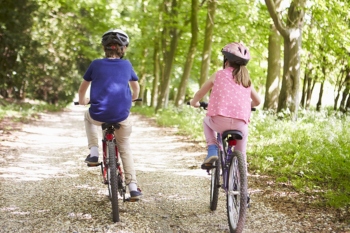 Less than half of children and young people are physically active for the recommended hour or more a day, a new survey has revealed.
The survey, by Sport England, found activity levels for children during the 2019/20 academic year in England fell due to the impact of the pandemic and storms in the spring term.
The latest Active Lives Children and Young People Survey found girls were more likely to adapt to the challenge of the coronavirus pandemic by finding alternative ways to be active. This resulted in girls' activity levels increasing by 2.4% during the summer term.
Tim Hollingsworth, chief executive of Sport England, said: 'We know the pandemic has had a huge impact on children and young people's engagement in sport and physical activity and?so it is encouraging to see so many still found ways to be active despite many popular activities being unavailable.??
'Yet, while we are pleased to see the increase in more informal activities such as walking and cycling, which were possible during the periods of restriction, we can't underestimate the long-term effect on other sporting activities both in and out of school?.'
The report also highlighted that restrictions on sports and activities affected children and young people of Mixed and Black ethnicities the most.
Cllr Gerald Vernon-Jackson, chair of the Local Government Association's Culture, Tourism and Sport Board, said: 'The survey results are concerning, and highlight the importance of helping children to be active during this period to support their physical and mental wellbeing. Councils are working hard to keep parks and green spaces open and available for this, and by implementing active travel routes to support safe cycling and walking.
'As we look beyond the pandemic, public leisure facilities will have a key role to play in supporting people to return to activity. We are calling on Government to extend the National Leisure Recovery Fund to ensure this crucial infrastructure is ready.'