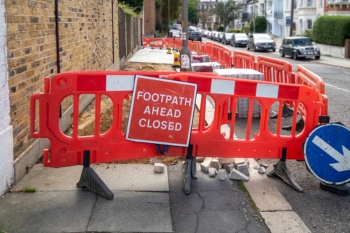 Charges under London's lane rental scheme are to be amended from May and the scheme will be expanded and include pavements for the first time.
Transport for London's (TfL) scheme allows the transport authority to charge utility companies and infrastructure providers a daily fee for digging up the busiest sections of the capital's roads at the busiest times.
The changes, which also include incentives for high safety standards, will come into force after TfL's proposals were approved by the Department for Transport.
TfL said they will make roadworks more efficient and reduce the disruption faced when pavements and cycle routes are blocked by roadworks and help protect bus service reliability.
It added that they will also help it deliver the Mayor's Vision Zero goal of eliminating death and serious injury on the transport network.
Glynn Barton, TfL's director of network management, said: 'London's road network plays an absolutely vital role in keeping the capital moving and this has become more apparent than ever over the last year, with our pavements in particular playing a key role in enabling safer walking journeys.
'We recognise the hugely important job done by utility companies and we've worked closely with the industry to develop these changes to our pioneering scheme,which will boost safety standards and make a real difference to everyone using our road network, including people walking and cycling.'
TfL said the changes follow a review of the scheme's successes and analysis of how it could continue to support London's economy and cut congestion in future.
TfL said that since lane rental was introduced in 2012, there has been a 65% increase in different companies working at the same site, at the same time, and a 30% rise in planned utility works at night.
For more stories like this, visit Highways Magazine
Photo: MagicBones / Shutterstock.com