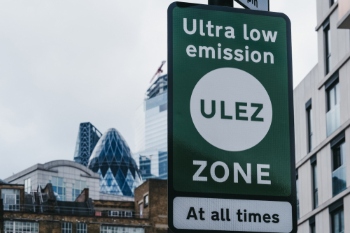 London's Ultra Low Emissions Zone (ULEZ) has had very little impact on the capital's air quality and is only effective as part of a wider approach to reducing carbon emissions, researchers say.
The ULEZ was introduced in April 2019 to reduce air pollutant emissions from road transport and accelerate compliance with the EU air quality standards.
The capital has seen some dramatic improvements in air quality over the last half a decade. The number of Londoners living in areas exceeding the legal limit for nitrogen dioxide (NO2), for example, fell from over two million in 2016 to 119,000 in 2019 – a reduction of 94%.
However, researchers at Imperial College London have brought into question the effectiveness of ULEZs – at least, when they are used in isolation from other measures to improve air quality.
Publishing their findings on the IOPScience website, they found that London's ULEZ was responsible for an average reduction of less than 3% for NO2 concentrations, and had insignificant effects on O3 and PM2.5 concentrations.
'ULEZ caused only small improvements in air quality in the context of a longer-term downward trend in London's air pollution levels,' they reported.
The researchers urged cities considering introducing an ULEZ to make it part of a wider strategy for tackling pollution.
'Reducing air pollution requires a multi-faceted set of policies that aim to reduce emissions across sectors with coordination among local, regional and national government,' they concluded.
Image: Alena Veasey / Shutterstock.com