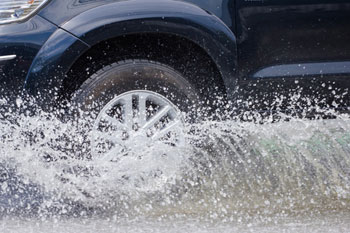 An independent review examining the flash flooding that affected many parts of the capital in July 2021 has launched.
The London Flood Review, which has been commissioned by Thames Water, seeks to better understand the extent and causes of these floods, to assess how the drainage systems performed, and to recommend how the increasing risks of future flooding events can be managed.
The review is being led by an independent expert group (IEG) of external specialists, chaired by leading water strategist Mike Woolgar and supported by flood modelling expert Professor Roger Falconer and city resilience expert Lykke Leonardsen, from Copenhagen.
'The extreme flooding London experienced this past summer is likely indicative of events we may see more of under climate change. Flooding like this is frightening for those affected and the mess, losses and damages for so many people underlines just how important this review is,' said Mr Woolgar.
'I look forward to bringing my experience and that of my fellow Review Group members to establish how and why the flooding occurred so we can help ensure the capital's drainage systems are as resilient as possible in the face of our changing weather patterns.'
To assist with the review, the IEG has established a strategic stakeholder panel (SSP) which helped shape the objectives and will provide input, guidance and feedback, and help deliver its recommendations where appropriate. This group comprises senior representatives from the Greater London Authority, Transport for London, and London Councils, as well as other bodies. Ofwat will also join the SSP to act as an observer throughout the process.
Commenting on the review, Thames Water retail director Warren Buckley said: 'We welcome and support the London Flood Review, led by Mike Woolgar. The severe weather patterns that led to some of the flooding incidents this summer look likely to become the new normal for the UK.
'Ensuring that our network can operate?and?minimise the risk of future flooding needs to?now?become the?collective?new focus for?all?organisations involved in London's water network and drainage systems.??
'While we can't prevent every flood from happening, we know that we can do better and we must invest in resources today in order to build greater resilience tomorrow. This independent review will be at the heart of driving future improvements at Thames Water, and we hope it will also prove valuable for all authorities with surface water management responsibilities.'