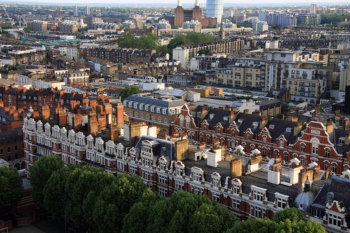 A new plan to upgrade all housing stock in the capital has been agreed by all the London boroughs.
The Retrofit London Housing Action Plan sets out how all of London's domestic buildings would be retrofitted to an average energy performance rating of EPC B by 2030 to cut carbon emissions.
It sets out several key principles including the need for boroughs to retrofit their own stock of 390,000 council homes, making sure planning decisions and guidance support low-carbon retrofit activity, and move London away from gas heating.
London Councils estimates that achieving net zero in every London property will cost £98bn overall, but that this target will support 200,000 jobs, encourage growth in green industries and reduce fuel poverty.
Philip Glanville, mayor of Hackney and chair of London Councils' Transport and Environment Committee, said: 'Achieving net zero is undoubtedly a momentous challenge – but it's also an invaluable opportunity to work with communities in improving energy efficiency, embedding green skills, and driving a green economic recovery.
'This is a vital investment in a greener future for London and the whole UK. Retrofitting on this scale will bring immediate benefits by creating new jobs while also at this crucial time lowering Londoners' fuel bills, cutting carbon emissions, and addressing the climate emergency.'
London Councils is calling on the Government to use its Spending Review to announce £30m of up-front funding for the next phase of the UK Cities Climate Investment Commission work, and delivery of the £3.8bn Social Housing Decarbonisation Fund and £2.5bn Home Upgrade Grant.