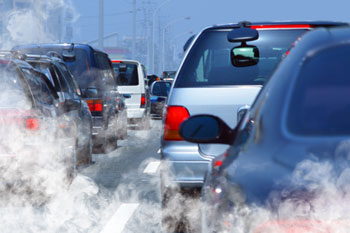 The Mayor of London has unveiled a new 'checker scheme' which will help motorists identify — and avoid — the most polluting vehicles.
The new online 'cleaner vehicle checker', which Mayor Khan said was the first of its kind and will be launched in the Autumn, will include test results for new car and van models on the market.
It will clearly and more accurately detail the emissions cars produce on London's roads, freeing purchasers from having to rely on potentially unreliable official testing, the Mayor's office said.
Sadiq Khan made the announcement today as he met with the Mayor of Paris, Anne Hidalgo, and representatives from major car manufacturers to discuss the need for tougher Euro standard testing and a switch to zero and ultra-low emission vehicles.
'My scheme will put an end to the smoke and mirrors that have been employed in official emissions tests,' said Mayor Khan.
'It will provide Londoners with an honest, accurate and independent evaluation of the emissions of most new cars and vans on our roads and on the showroom forecourt.
'By having "on the road" testing I believe we will help Londoners make an informed choice and incentivise manufacturers to build cleaner vehicles sooner.
'This scheme is also a fantastic example of how big cities around the world can pool their expertise and their influence to encourage big industry to clean up its act.
'The toxicity of the air in London and many other big cities is an outrage, and schemes of the type we are introducing in London and Paris have the potential to make a massive difference to the quality of the air we all breathe.'
The scheme, which is also being rolled out in Paris, is partly funded by the London-based road safety charity FIA Foundation.
Sheila Watson, the foundation's deputy director, said: 'The FIA Foundation is delighted to be working with the cities of London and Paris on such important work.
'Good policy and good consumer choices depend on good evidence, and this project will provide that.
'We would like to see other cities follow London and Paris's lead and work with us and our Real Urban Emissions Initiative (TRUE) to get a better picture of what the vehicles on their streets are emitting.'
Simon Alcock, a spokesperson for the environmental law organisation ClientEarth, also welcomed the news and urged the Government to roll the scheme out across the country.
'This is a significant move that ClientEarth has been calling for,' he said.
'For too long car companies have been able to get away with selling people cars that pollute far more on our roads than they do in the laboratory tests.
'This has made a major contribution to the air pollution crisis that we are seeing in our towns and cities today.
'The government should introduce a similar scheme across the country so everyone has the option to choose cleaner vehicles.
'This would also make Clean Air Zones work better which is vital if we are to take the dirtiest vehicles off our streets.'