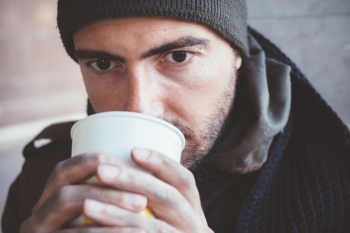 The Government has announced that it will end the four-year freeze on the local housing allowance (LHA) which charities blame for a rise in homelessness.
There are around 1.4 million people in the private rental sector benefiting from the welfare payment.
However, in 2016 the Government capped LHA payments – a move which the charity Homeless Link argues has contributed to the numbers of people who are homeless in the UK.
The minister for welfare delivery, Will Quince, estimates that the decision to end the freeze will provide an average of around £10 extra a month to affected households in the private rented sector.
'We are committed to tackling all forms of homelessness – ending the freeze on housing benefits is just one part of achieving this,' said Mr Quince.
'We have announced an additional £263m to help councils provide better support to homeless people, and importantly, prevent people from becoming homeless in the first place.
'We will continue to work with the Ministry for Housing, Communities and Local Government, and others across government, to find ways to support the cost of living in the rented sector.'
Rick Henderson, chief executive of Homeless Link, welcomed the Government's decision but argued 'this change alone will not be enough.'
'To ensure that everyone has a home that they can afford, the Government must do more to bring the LHA rate back in line with local rents,' he said.
'Today's announcement will raise LHA rates in line with the Consumer Price Index (CPI) inflation rate, which is around 1.5%, but this still leaves a significant shortfall in many areas of the country.'