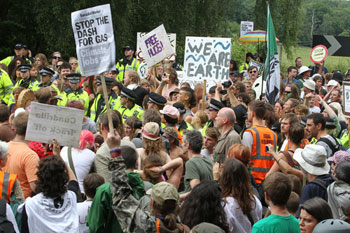 The decision on whether or not to allow fracking to go ahead should be in the hands of the local communities 'most affected' and not the Government, council chiefs say.
The Local Government Association (LGA) has criticised Whitehall's decision to overturn Lancashire County Council's refusal to give permission for a fracking site.
'It should be up to local communities to decide, through their locally democratic planning systems, whether or not to host fracking operations in their areas,' said Cllr Judith Blake, the LGA environment spokesperson.
The county council had rejected an application by the Lancashire-based energy company Cuadrilla for permission to explore for shale gas—'fracking'--in two parts of the county.
However, the communities secretary Sajid Javid has overridden this decision and said fracking should go ahead at Preston New Road. Reports suggest the same will be the case with the Roseacre site.
'Ensuring communities feel safe is important,' said Cllr Blake.
'Any company that applies for a fracking licence must assure residents through their council that environment and safety concerns can and will be adequately addressed before planning permission is considered.
'People living near fracking sites - who are most affected by them - have a right to be heard. Local planning procedure exists for a reason, to ensure a thorough and detailed consultation with those communities.'
Responding to the Government's decision, Pat Davies, chair of Preston New Road Action Group, said: 'This is a sad day as it is clear to all that this Government neither listens nor can be trusted to do the right thing for local communities.
'It is deplorable that an industry that has been rejected on every level has inflicted itself on Preston New Road.'
Ms. Davies pointed out that Westby Parish Council, Fylde Borough Council and Lancashire County Council planning committee all rejected Cuadrilla's application.
'Dismantling the democratic process to facilitate a dirty fossil fuel industry when only months ago the UK committed to climate change targets in Paris is another example of saying one thing and doing another,' she said.
'Profit clearly comes before people. This decision will be scrutinised by many, not just the people of Lancashire and this travesty of justice will not be accepted. This is not the end. We will challenge this.'
Describing the fight against fracking as a 'David and Goliath battle', Barbara Richardson of Roseacre Awareness Group emphasised the contradiction between the Government's commitment to localism and Mr Javid's decision to reverse a council decision.
'So much for our government saying they want local people to have control over their own destiny. Even our own MP urged his own ministers to respect local decision makers,' she said.
Friends of the Earth north-west campaigner, Helen Rimmer, concluded: 'This is bad news for Lancashire – the community have been fighting fracking for more than five years. This fight continues until this unproven and unpopular industry disappear for good.'