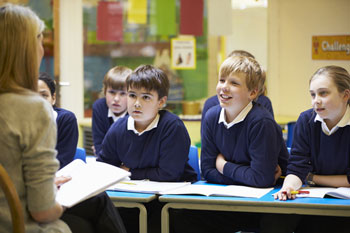 Council chiefs have warned about the 'squeeze' on school funding as a new report reveals the proportion of local authority secondary schools in deficit has trebled over the last four years.
A study published today by the Education Policy Institute (EPI) examines the latest trends in council maintained school balances and has revealed the extent of the school funding crisis.
It found that while the number of maintained schools in deficit fell between 2010-11 and 2013-14, the last four years has seen the total number treble, expanding to over a quarter of all such schools (26.1%).
The research also discovered that over two-thirds of local authority maintained secondary schools spent more than their income in 2016-17.
Overall, the think tank found, the average local authority maintained secondary school deficit rose over this seven year period, from £292,822 in 2010-11 to £374,990 in 2016-17.
The EPI found a similar picture when looking at maintained primary schools. The average primary school deficit increased, from £72,042 in 2010-11, to £107,962 in 2016-17.
The proportion of primary schools in deficit also increased significantly last year, from 4% in 2015-16 to 7.1% in 2016-17.
Looking at the cost pressures for schools, the EPI found the funding allocated by the Government through its new National Funding Formula for schools (NFF), fails to meet pressures on budgets produced by the annual 1% pay settlement for school staff.
This is despite the announcement of an extra £1.3bn in funding for schools by Whitehall in July 2017.
The think tank warned that as many as 40% of schools are unlikely to receive enough additional funding in 2018-19 to meet these pay pressures.
For 2019-20, this proportion rises to nearly half — or 9,000 — of state-funded mainstream schools in England.
'For a significant proportion of schools in England, being able to meet the cost of annual staff pay increases from a combination of Government funding and their own reserves looks highly unlikely, even in the short term,' the report concludes.
'Education staff account for the majority of spending by schools – around two-thirds. It is likely that schools will find it difficult to achieve the scale of savings necessary without also cutting back on staff.
'Many schools will face the challenge of containing budget pressures and reducing staffing numbers without impacting on education standards.'
Responding to the report, Cllr Richard Watts, chair of the Local Government Association's (LGA) Children and Young People Board, said: 'This report raises a number of concerns around the squeeze on council-maintained school funding, and in particular the possible impact on the quality of education children receive.
'Council-maintained schools are under significant funding pressures as a result of cuts to local authority budgets, an increase in wages and the additional costs of paying the Apprenticeship Levy.'
The Government's Apprenticeship Levy requires all public and private employers with a wage bill of more than £3m to contribute 0.5% of this expenditure towards funding the creation of 3 million new apprenticeships.
'The introduction of the national funding formula for schools and reforms to high needs funding have exacerbated things further, by making it more difficult for councils to 'top-up' high needs funding in response to rising demand,' Cllr Watts continued.
'Councils are clear that the Government should provide additional and ongoing funding to meet this need, otherwise councils may not be able to meet their statutory duties and children with high needs or disabilities could miss out on a mainstream education,' he said.
'As a minimum the Government needs to launch a fundamental review of high needs funding in order to ensure we meet the needs of our most vulnerable children.'