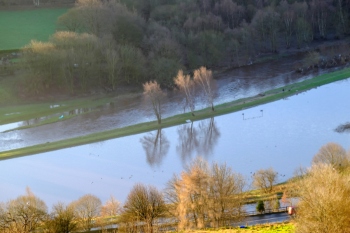 On 9 February 2020, Storm Ciara caused Calderdale's fourth major flood in eight years. More than a third of homes and over 50% of businesses that flooded in England last winter were in the Calder Valley. Storm Ciara's damage across 10 miles of Calderdale was another harsh reminder of the local impact of the global climate crisis.
Since then we've faced 16 flood alerts/warnings. Devastating flooding on Boxing Day 2015 affected more than 2,500 residents and 1,250 businesses. This January, Storm Christoph brought 108mm of rain – matching Storm Ciara – but over 48 hours rather than 18. A near miss.
We are living with climate change in the form of frequent extreme weather, constant flood risk, ongoing financial pressure and intense fear and distress throughout our communities.
Calderdale's unique topography heightens this. Flood risk is embedded in our steep-sided valleys – the same landscape that we love, that makes our place distinctive. We're determined to protect its beauty. Determined not to accept that harm from flooding and environmental damage are our reality forevermore.
Read the full feature for free here.
Photo: Phil Silverman / Shutterstock.com