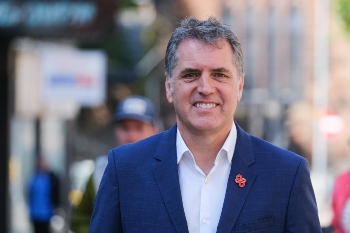 Life as a refugee in a new country is a dizzying, disorienting and difficult ordeal. After endless forms, hearings and waiting, those lucky enough to be granted asylum must move quickly to find accommodation, register for National Insurance and try to find meaningful employment. It's a difficult enough experience for anyone, let alone for anyone where English is not their mother tongue.
Debra Hill is an ESOL teacher at an adult learning provider in St Helens, working mainly with refugees from Iraq and Syria. 'Until recently, our population was 97% white British. With refugees arriving in the town, I was concerned they were being spread around different places, with no focal point to support them,' says Debra. She struck upon the idea of a community café, Laziz (which translates into English as 'delicious') run by the new arrivals, to help develop their language skills and integrate them into the community.
The café quickly went from strength to strength with longstanding locals taking a keen interest in the volunteers – and their native cuisine! It is now helping the volunteers to get formal qualifications, experience and jobs. It's an incredible story – but is just one of many in the Liverpool City Region's flourishing social economy.
Employing 50,000 people and generating almost £3bn every year, the socially trading sector is the silent engine of our local economy. It is a fantastic resource that ensures that our region's economy has a keen sense of fairness and social justice. As mayor, I'm committed to helping it grow and thrive even further.
Working with our socially trading sector we developed Kindred, a radical new venture to make that happen – much like how Debra worked with the refugees to develop Café Laziz.
Launched in 2019, Kindred is a unique investment and development vehicle, owned and run by the sector, that provides funding and support to community organisations to nurture, grow and scale-up their businesses.
Established with £5.5m from the Combined Authority I lead and £1m from Power to Change, Kindred builds on the best of our region's collaborative spirit to help expand our thriving social ecosystem. Already, they have disbursed their first £1m of support to the first 22 beneficiaries, including not just Café Laziz, but organisations helping parents educate their children in those crucial early years, tackling social inequalities in mobility, and championing opportunities in live music.
These organisations are not charities. They trade to generate income. They are groups run in the collective interest, delivering real social benefits to their communities, and helping to build a cyclical economy by reinvesting their profits into doing even more good.
The pandemic has had a bruising impact on economies around the world, and it is organisations like these that might ordinarily be the first to go to the wall. Thankfully, Kindred has been there to offer support and guidance to help steer more than 200 of them through some of the worst of it. Coupled with almost £3m, which we were able to offer through LCR Cares, my community support fund, they are now able to look to the future – and towards recovery.
Looking ahead, I know that our socially trading sector will have a big role to play. We have specifically identified them as one of the pillars that our £8.8bn recovery plan will be built on. Given leaders' newfound commitment to 'build back better' (a phrase Andy Burnham and I began using in April last year – way before it was hijacked by Boris Johnson), Kindred and the social economy it supports has never been more needed. Once again, where the Liverpool City Region leads, I'm certain others will follow.
Steve Rotheram is mayor of the Liverpool City Region