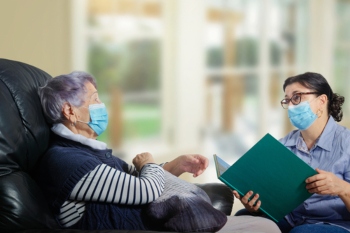 The Prime Minister has been urged to give adult social care a '1948 moment' ahead of the Queen's Speech next month.
An open letter, signed by care leaders and politicians, calls on Boris Johnson to deliver long-awaited reforms to social care and establish a long-term and sustainable future the sector.
The letter warns social care has been on the front line of the COVID-19 pandemic, with nearly 900 staff losing their lives during the crisis.
It also highlights that an estimated 1.6 million older people do not receive the care they need, and thousands of people face losing their home to pay for care every year.
The letter states: 'The adult social care workforce has demonstrated tremendous commitment and resilience during this time; however, the sector is on its knees, and is in desperate need of reform in order that we can craft a long-term future, that will protect citizens, reduce the burdens on the NHS and establish good careers in social care.
'Successive governments have promised social care reform but have not delivered and now the situation is desperate. Social care needs its 1948 moment to establish a long-term and sustainable future, that will be to the benefit of all citizens and the economy.'