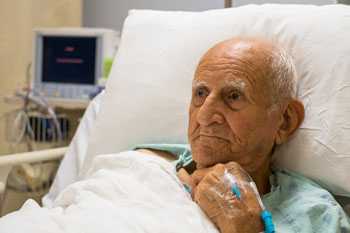 Directors of adult social services have welcomed a decrease in the number of days lost because of delays moving people from hospitals into care - but warn more needs to be done.
The latest statistics on Delayed Transfers of Care have revealed there were 154,600 total delayed days in March 2018, 102,600 of which were in acute care.
Published today by NHS England, these figures show a drop in delayed days from the same time last year. The March 2017 statistics recorded 199,600 total delayed days, of which 132,800 were in acute care.
Glen Garrod, president of the Association of Directors of Adult Social Services (ADASS), welcomed the new figures and noted emergency funding had 'played a huge and helpful role' in reducing delays.
Mr Garrod emphasised, however, that more needed to be done.
'Our concern remains to continue this and also recognise the need to look at the whole system which includes a focus on how best to address overall attendances and admissions to hospital which have been much higher than last year,' he said.
'We need to ensure that care and support is available in the community – from primary health care and social care with housing, enabling people to avoid the need for hospital in the first place.'
'As the voice of social care leadership across the country, ADASS is determined to make sure those we support can live independent and fulfilled lives,' Mr Garrod continued.
'That's why we are committed to continuing to work towards improving the number of people attending hospital as well as those leaving; this includes further reducing the number of delayed transfers of care due to social care.
'Whilst supporting hospitals is but one part of the responsibility facing social care we recognise that we have a contribution to make to the overall performance of acute services.
'It remains the right thing to do because social care services are vital in their own right and our focus on the whole person and co-ordinating care at home keeps people out of hospital, both transforming and improving lives.'