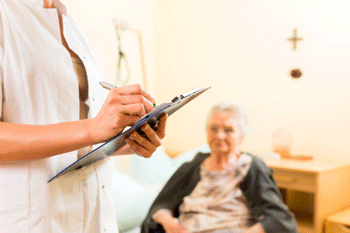 A quarter of care services for the elderly are failing safety standards, a damning new report from the Care Quality Commission (CQC) has warned.
The CQC has raised concerns after finding safety issues such as ineffective systems for managing medicines or staffing levels in 25% of services.
The CQC found over three-quarters of adult social care services are currently rated as 'good' (77%) and 2% are currently rated as 'outstanding'.
However, it found 'considerable variation' with nearly a fifth (19%) of services – which include residential homes and nursing homes -- being rated as 'requires improvement' and 2% as 'inadequate'.
Of the 686 services that were originally rated as 'inadequate' and have been re-inspected, more than four in five (81%) improved their overall rating, the CQC found.
However, there has not been the same rate of improvement in services that were rated as 'requires improvement' initially, where only 56% of the services eventually improved to 'good', with others failing to improve and some deteriorating.
Worryingly, 26% of the services that were first rated as 'good' and have been re-inspected have deteriorated.
The chief inspector of adult social care, Andrea Sutcliffe, said: 'Having carried out over 33,000 inspections of around 24,000 different services, most of the adult social care sector is meeting the Mum Test, providing safe and high quality care that we would be happy for anyone we love, or ourselves, to receive.
'This is thanks to the thousands of dedicated staff and providers who work tirelessly to ensure people's care is truly person-centred and meets their individual needs.
'However, there is still too much poor care, some providers are failing to improve, and there is even some deterioration.
'It appears to be increasingly difficult for some providers to deliver the safe, high quality and compassionate care people deserve and have every right to expect. With demand for social care expected to rise over the next two decades, this is more worrying than ever.'
Margaret Willcox, president of the Association of Directors of Adult Social Services (ADASS), said: 'This report recognises that there is a lot of great care provided by committed leaders and staff through high quality services to people in care homes and in their own home.
'Our recent 2017 budget survey shows that whilst extra funding is very welcome, it doesn't meet increasing needs and costs, that 74% of directors report that providers face quality challenges and that 69% of councils had experienced provider failure or returned contracts.
'The risk of adult social care approaching its tipping point is still real and we will focus on re-doubling our mutual efforts to ensure that the quality of care doesn't deteriorate and that older and disabled people and their families get the reliable, personal care they need and deserve.'