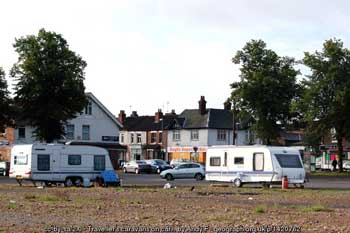 A landowner has been given a suspended jail sentence by the High Court after siting caravans on greenbelt land in Cheshire East.
Michael Maloney had 10 counts of contempt of court found proven at a trial earlier this year, following legal action brought by Cheshire East Council in relation to caravans placed on his privately-owned field.
Mr Maloney was sentenced to eight months' jail, for each offence to run concurrently, suspended for two years. He was also ordered to pay Cheshire East Council's legal costs and to make an interim payment of £25,000 by 1 June 2021.
The court case followed an interim injunction preventing the siting of further caravans on the field in question. The order also prevented the construction of a hardstanding, the importing of materials and erection of buildings and other structures without planning permission.
Despite the court order, more caravans were brought on to the site and additional works continued in breach of the injunction, prompting the council to begin proceedings for contempt of court.
David Malcolm, Cheshire East Council's head of planning, said: 'This sentencing sends out a message that planning laws and court orders cannot simply be trampled on and ignored. The defendant faces imprisonment if he breaches the court order or commits further offences.
'I am very pleased with the successful outcome of the trial and the decisive way the judge reached his verdict on both the contempt of court and his conclusion to grant the final injunction.
'Council officers responded quickly to local residents' concerns in August, in securing the injunction. Since then officers have worked tirelessly to prepare the legal case, which has now been rewarded. It hopefully provides some reassurance for local residents that the law cannot simply be ignored.'