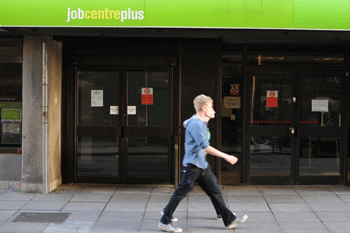 Labour will guarantee a job for unemployed young people for the whole of the next Parliament, senior party figures have revealed.
If elected in the 2015 general election, Labour will give six months of employment and training to 18-24 year olds who have been out of work for more than a year.
Jobseekers will be forced to take up the paid starter job or face losing their benefits, shadow chancellor Ed Balls said.
The Compulsory Jobs Guarantee will also apply to adults aged over 25 who have been claiming Jobseeker's Allowance for two years or more.
Funding for the scheme will come from a repeat of Labour's tax on bank bonuses and restrictions on pensions tax relief for people earning over £150,000.
Balls said: 'We will get young people and the long-term unemployed off benefits and into work.'
'The Government will work with employers to help fund paid work with training for six months. It will mean paid starter jobs for over 50,000 young people who have been left on the dole for over a year by this Government.
'But it will be a tough contract – those who can work will be required to take up the jobs on offer or lose their benefits.'
The number of young people claiming Jobseeker's Allowance for over a year has doubled since May 2010, reaching 56,100 this year.
Shadow work and pensions secretary, Rachel Reeves, said: 'The cost of long-term youth unemployment is £350m a year and £3.2bn over the lifetime of the young unemployed.
'A Labour government would also introduce a Basic Skills Test to assess every new Jobseeker's Allowance claimant within six weeks of claiming benefits. Anyone who doesn't have basic English, maths or IT skills will have to take up training or risk losing their benefits.'
However, financial secretary to the Treasury, Sajid Javid, said: 'Labour's sums don't add up. They are proposing yet more unfunded spending, meaning more borrowing and more taxes to pay for it.'