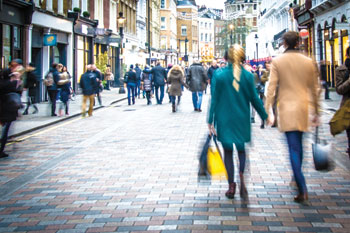 Labour has announced that it plans to scrap business rates to make the taxation system fairer and to help revive the high street after the pandemic.
Shadow chancellor Rachel Reeves announced yesterday at Labour's conference that the party will cut – and eventually scrap – business rates if it is elected.
In a press release, Labour said they would introduce 'a new system of business taxation fit for the 21st century.' However, the details of the reforms are yet to be confirmed.
A former Bank of England economist, Ms Reeves said that the new system of taxation would feature more frequent revaluations and instant reductions in bills where property values fall. It would also reward businesses that move into empty premises and encourage green improvements.
Ms Reeves stressed that 'no public services or local authorities will lose out from these changes.'
'Our high street businesses do so much to enrich our lives and our communities, facing huge adversity in the past year. They are struggling right now, with a cliff-edge in rates relief coming up in March,' she told the party's conference.
'The next Labour Government will scrap business rates. We will carry out the biggest overhaul of business taxation in a generation, so our businesses can lead the pack, not watch opportunities go elsewhere.'
She added: 'Labour's approach will be based on working together, with businesses, workers and public bodies all pulling together in a national endeavour to rebuild Britain and to seize the opportunities of the future.'
Responding to Labour's announcement, Federation of Small Businesses (FSB) national chair Mike Cherry said: 'The shadow chancellor is right to propose concrete reform of a business rates tax which disproportionately burdens the small businesses and sole traders at the heart of local communities.'
He added: 'Business rates is a regressive tax that hits firms before they've made a pound in turnover, let alone profit, whilst disincentivising sustainable investment. This proposal marks a welcome call to action that would take more small businesses out of the regressive rates system and rightly looks ahead to more fundamental reform.'