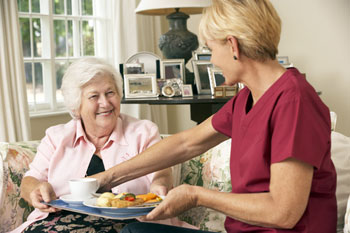 The Labour Party has committed to the introduction of free personal care for all older people at an estimated cost of £6bn.
Personal care, which can be provided to people in their homes or in residential care, helps older people with daily tasks such as getting in and out of bed, bathing and washing, and preparing meals.
Labour's policy would more than double the number of people receiving state-funded social care and would reduce the number of people facing costs of over £100,000 for their care by 70,000.
It would also ensure that the distinction between health and care needs, which Labour says unfairly impacts people with dementia, is removed.
The delivery of free personal care would be a part of Labour's proposed National Care Service.
A report from the think tank IPPR, published in May, argued that the introduction of free social care for everyone over 65 would save the NHS in England £4.5bn a year and help improve care in the community.
In July, the Lord's Economic Affairs Committee said the Government 'should immediately invest £8bn in adult social care, then introduce free personal care over the next five years.'
'Nine years of cuts to local council budgets have pushed care services to the brink,' said Barbara Keeley MP, Labour's shadow social care and mental health minister.
'For years, the Tories have failed to bring in much-needed reform, leaving too many people and their families struggling to afford the care they need.
'Tackling the crisis in social care is a priority for Labour. Our plans for social care will address the immediate crisis in care, double the number of people receiving publicly-funded care, and stop people with dementia being treated unfairly by the care system.
'It is vital that social care is a universally-available public service which provides dignity, security and compassionate care. Our National Care Service will have these principles at its core.'
According to the health charity The Kings Fund, free personal care could require around an extra £6bn in 2020/21 and £8bn by 2030/31. Labour estimates that £8bn has been taken from council budgets for social care since 2010.
Sally Warren, director of policy at The King's Fund, welcomed Labour's announcement but said there was 'little detail' on how the policy would be delivered.
'The case for reform is overwhelming and free personal care would be a good step,' she said.
'If funded properly, this will be simpler for people to understand and mean more people receive the help and support they need. But free personal care is not the same thing as free social care, and some people would still be left facing catastrophic costs of care.
'Labour's recognition of the importance of the social care workforce is welcome, but there is little detail in how those aspirations will be delivered and what it will cost.'
'The lack of serious proposals to support working age adults is also disappointing,' she continued.
'Working age adults account for around half of the public money spent on social care and they must not be forgotten when reforming the system.'
'Reducing the historic divide between means-tested social care and largely free-at-the-point-of-use NHS services could benefit thousands of people, but that does not necessarily require more services provided by local authorities,' she said.
'A properly funded new system should have space for public, private and voluntary sector care providers – a diversity that has been feature of social care for 30 years.'