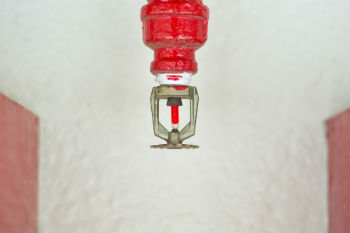 The Government should make available emergency funds for local authorities to check cladding and to install sprinklers in tower blocks, Labour says.
In his response to the Queen's Speech, Jeremy Corbyn said such 'minimal fire safety measures' cannot be left to a 'postcode lottery'.
He paid tribute to Croydon Council's decision to install fire sprinklers in 25 council blocks with 10 storeys or taller, which was announced last Monday in response to the Grenfell Tower tragedy.
Other councils are following Croydon's lead. Sheffield City Council announced this week they would be fitting sprinklers in all 24 of their tower blocks.
'We had always intended to review our position on sprinklers later this year,' said Cllr Jayne Dunn, cabinet member for neighbourhoods and community safety.
'But as an extra reassurance to residents, I am today announcing this has been brought forward and we will be fitting sprinklers in all 24 blocks.'
Leeds City Council said it was in the process of fitting sprinklers to properties reserved for older residents.
'We are committed to installing sprinklers where they are effective, we are already in the process of retro fitting sprinklers to tower blocks in our estate with five already complete, the sixth is underway and two more are already planned in,' said Cllr Debra Coupar, Leeds City Council's executive member for communities.
'We are initially targeting blocks of flats which are reserved for older residents, who can be more vulnerable in the case of fire and anticipate accelerating this programme.'
'It is important to recognise that these works are complex, disruptive for residents and take time to complete effectively.'
Cllr Coupar also called on Whitehall to give 'urgent consideration' to the need to retrofit sprinklers in all multi-storey blocks.
'This should not be subject to a postcode lottery but based on sound evidence and advice,' she said.
'Practical consideration also needs to be given to the capacity of the industry and the level of resource needed to achieve this on a national level.'
Southampton has said they are prioritising the installation of sprinkler systems in three of their blocks -- Albion Towers, Shirley Towers, and Sturminster House -- because of their design.
In a speech to Parliament this morning, the Prime Minister said the Government had arranged to test cladding in all relevant tower blocks as a 'precaution'.
Camden Council has announced it will 'immediately begin preparing to remove' external cladding panels from five tower blocks on the Chalcots Estate.
After independent laboratory testing, the council found the cladding was made up of aluminium panels with a polyethylene core — the same materials that were used on Grenfell Tower.
However, the council emphasised the arrangement of the cladding and insulation 'significantly differs from that on Grenfell Tower'.