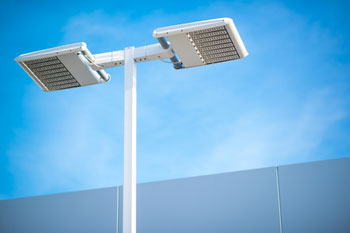 The adoption and change to LED street lighting by local authorities seems to have been exponential in recent years. The squeeze on local government finances has been relentless and as street lighting that can, typically, account for about 40% of the authority's electricity budget, it has been ripe for scrutiny.
The change to LED lighting has been attractive because:
• Energy consumption can be halved.
• The replacement of time expired equipment leads to improved reliability and reduced ongoing maintenance.
• Adaptable; instant start, available in a range of colour temperatures and dimmable to allow variable lighting to be installed, offering greater energy savings.
For some reason LED lighting has had a bad press, seen as the cause of all sorts of adverse effects on humans, flora and fauna. Reports produced in USA and Europe suggests LED street lighting is bad for humans in two main areas; the production of blue light that can affect melatonin production and glare that can damage to vision.
To address these concerns and assist our membership, ILP produced Guidance Note 5/17: Using LED's, to put on record its position on these issues in our industry. This is available at: www.theilp.org.uk/documents/guidance-note-5-using-leds/
Recent reports that grabbed the headlines include one published by Public Health England into the photobiological impact of LED lighting. This concluded that there was a possibility that blue light emitted from LED light sources had the potential to cause disruption to melatonin production affecting our circadian rhythm, sleep patterns and therefore health. What some articles based on the report failed to mention was that as LED street lighting had a thin film applied directly to the LED chip, using these light sources, the report states, there was no evidence to support any human photobiological disbenefits.
A more recent report evaluating the association between artificial light-at-night exposure and breast and prostate cancer risk in Spain has caused much consternation and associated an increase in these cancers with artificial light at night. For outdoor lighting, the report used digital photographs from the European Space Agency NightPod system, using a spatial resolution of about 30m. Using photograph pixel data, calculations were made to ascertain the amount of light within a specific range known to cause melatonin suppression. It is melatonin that affects our circadian rhythm and can affect hormone production. The report suggests these hormone changes are responsible for an increase in the hormone based prostate and breast cancers. However, this study only measured upward light. LED street lighting emits little upward light, the majority is directed to the area it is needed. The study also fails to identify the sources of light; domestic, recreational, security or commercial. The inference seems to have been that it is all street lighting.
Another area of bad press for LED street lighting has been glare and possible eye damage. The requirements and limits associated with the photobiological safety of lamps and lamp systems is contained in BS EN 62471. The Standard is concerned with the short wavelength elements (blue and UV light content) of light sources. Most street light sources are safe when people are at a 'normal' distance from it.
The table below gives descriptions of risk groups associated with the intensity of light from a light source, taken from the Standard.

These figures are based on an observer distance of around 500mm; the further away from the source the lower the intensity, the lower the risk. Almost all LED street lighting in UK is rated as being RG1 or exempt, so the risk to the public from street lighting installed at 5m and above is negligible. Although eye damage is unlikely to be a problem, glare could be by affecting road users vision.
The answer is to understand the product being used and for careful design and planning by a competent lighting professional.
This article has been provided by the Institution of Lighting Professionals