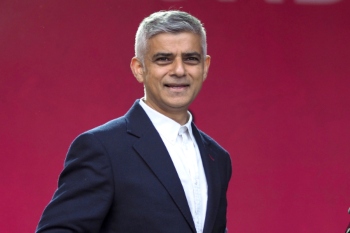 The Mayor of London has pledged funding to help councils resettle Afghan refugees.
Sadiq Khan announced today he will expand his new Right to Buy-back fund to offer local authorities the opportunity to bid to purchase former council homes to accommodate families from Afghanistan.
The British government has promised to welcome 20,000 refugees from Afghanistan following the humanitarian crisis in the country.
So far several London boroughs, including Richmond, Camden, Ealing, Hackney, Hammersmith & Fulham, Kingston, Lambeth, Islington and Lewisham have told the Government they will support the resettlement scheme.
Mayor Khan said he was 'determined to do everything in my power to support those escaping the country'.
Last month the mayor introduced the Right to Buy-back programme, which will enable councils or council-owned housing companies to acquire housing back from the private sector for social rent or to support homeless families.
Mayor Khan is now inviting London councils to submit bids to acquire housing for refugee families.
He continued: 'London has a proud history of providing sanctuary to those in need and, by working together, we can help these refugees find a welcoming home in our city.
'That's why I'm inviting borough councils to use my Right to Buy-back fund to acquire homes for refugees, as well as Londoners in housing need.'
Photo: Snap Crackle Pop / Shutterstock.com