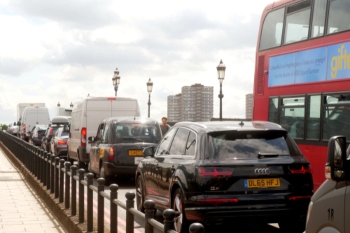 London must implement a pay per mile road charging system to achieve its targets for cutting toxic air and carbon emissions, according to a new report commissioned by the mayor's office.
The report sets out that to achieve 'anywhere near' a 27% reduction in car vehicle kilometres, London will need a new kind of road user charging system implemented by the end of the decade at the latest.
'Such a system could abolish all existing road user charges – such as the Congestion Charge and ULEZ - and replace them with a simple and fair scheme where drivers pay per mile, with different rates depending on how polluting vehicles are, the level of congestion in the area and access to public transport.'
City Hall said the report, published by Element Energy, shows that it needs to take more action, particularly around reducing vehicle use, 'but that the Mayor does not have the funding or powers to deliver everything that's required alone'.
Officials said that in order to reduce transport emissions 'by anywhere close to the amount required to clean up London's air, achieve net-zero by 2030 and cut congestion', the capital will have to see a significant shift away from petrol and diesel vehicle use.
London mayor Sadiq Khan, said: 'This new report must act as a stark wake-up call for the Government on the need to provide much greater support to reduce carbon emissions in London. It's clear the scale of the challenge means we can't do everything alone.
'But I'm not willing to stand by and wait when there's more we can do in London that could make a big difference. We simply don't have time to waste.
'We have too often seen measures to tackle air pollution and the climate emergency delayed around the world because it's viewed as being too hard or politically inconvenient, but I'm not willing to put off action we have the ability to implement here in London.'
Rosamund Adoo-Kissi-Debrah, whose daughter Ella died during an asthma attack brought on by pollution, said: ' Measures such as road pricing and expanding the ULEZ will mean everyone's health will benefit. We know measures like the ULEZ work and have led to a 44% reduction in roadside nitrogen dioxide concentrations in central London.
'We need more approaches like this; otherwise children like Ella will continue to die. On Monday 24 January Ella would have turned 18.'
Officials said Mr Khan has asked Transport for London to start exploring how the technology needed to introduce this kind of road user charging scheme could be developed. 'However, it's clear the technology to implement such a scheme is still years away from being ready.'
This article first appeared on Transport Network.