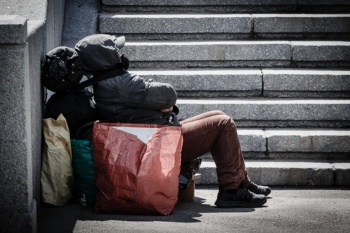 Strides made to end homelessness during the pandemic could be lost if the Government does not act now, a major new report on rough sleeping has concluded.
As inflation and energy costs soar, and furlough and the universal credit uplift come to an end, homelessness could surge again, the independent Kerslake Commission has claimed, and the Government will miss its manifesto pledge to end rough sleeping by 2024.
The Kerslake Commission is now urging the Government to act 'quickly and decisively' to avoid a surge in rough sleeping.
In a report to be launched later today, the cross party group of politicians and experts in health and housing – headed by Lord Bob Kerslake – has called on the DLUHC to develop a rough-sleeping strategy, increase joint working and ensure there is decent quality accommodation available for rough sleepers.
It has also called on the Government to rethink its plan to scrap the temporary £20-a-week uplift in Universal Credit to prevent pushing people out onto the streets.
Speaking in the run up to the launch of the report, Lord Kerslake said there was no single solution to homelessness.
'What is needed is a series of actions covering prevention, early response, and new provision. If this is done, we know what can be achieved – we have seen it in action over the past 18 months.
'But without decisive and urgent action, backed with appropriate funding, 'Everyone In' risks becoming a footnote in the history of the battle to end homelessness.'
As the Government ends its pandemic support measures and the cost of living is rising, he said this was a 'pivotal moment' where the Government could follow the commission recommendations.
'Or it can delay, watch as homelessness surges again, and rue what could have been,' he said.
Government estimates suggest at least 37,000 people were provided with a COVID-secure place to stay and access to support services during Everyone In.
Cllr James Jamieson, Chairman of the Local Government Association, getting rough sleepers off the streets during the pandemic was 'an incredible achievement by councils'.
He added: 'Councils stand ready to work with government to realise its ambition of ending rough sleeping by the end of this Parliament. For that to happen, the Government must use the forthcoming Spending Review to announce a cross-departmental homelessness prevention strategy.'
He claimed that would require long-term funding for homelessness prevention and 'welfare changes introduced in the pandemic maintained for as long as they are needed, including the Universal Credit uplift'.
The MJ has reported exclusively that the Public Accounts Committee (PAC) is poised to haul the new Department for Levelling Up, Housing and Communities (DLUHC) back into Parliament to answer questions over rough sleeping.