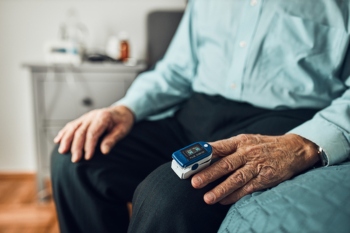 Going into hospital can be distressing for many vulnerable people and can even be detrimental for living their lives. For people with dementia, for example, going through a confusing hospital system can be incredibly unsettling. It can lead to a significant deterioration in someone's mental capacity and abilities, particularly when those deficiencies are already present.
It is also widely believed that around 10 years' worth of muscle wastage can result from just 10 days in a hospital bed, for people aged over 80.
This is the sort of deconditioning that people can and do experience. It's not good for anybody – particularly when a hospital admission is avoidable.
It isn't good for the individual who might lose part of their independence, and who might then need to go to a nursing home or a care home, with added personal financial costs. It's not good for their family. It's not good for hospitals that have never been under so much pressure as they continue to deal with the pandemic and an elective backlog. And for local authorities, additional service provision to try to get that person back to where they were before admission can be very expensive.
Ultimately, as a council, we are here to serve the residents of Stockport. That includes delivering value for money. But it is also about supporting residents in the best way we can. My team works to do that for some of Stockport's most vulnerable residents, in a part of the country where some of the most polarised inequalities exist for healthy life expectancy.
So I was heartened to see one of Stockport's care home managers recently appear on national broadcast news. She described to viewers how a group of 12 of her residents had experienced a total of two admissions in six months between them. This was instead of an expected 40-60 admissions.
The residents were some of the first people in Stockport to benefit from an initiative that started in 2019 to deliver remote care where it would make a difference.
Supporting a shared vision between partners in health, housing and other parts of the local economy, we wanted to try to reduce some of our health inequalities – with avoidable hospital admissions being the starting point.
As winter approached in 2019, the Government allocated a fund for adult social care in Stockport to help provide extra capacity. Working with health colleagues, we decided not to use the money to just put more beds into the system. We decided to focus on prevention and build capacity for keeping people out of hospital – a different investment to how this money is typically spent.
We already had a good relationship with Mastercall Healthcare – an out of hospital social enterprise care provider working in Stockport. We used some of our funds to collaborate with Mastercall and remote care platform provider Dignio, to create digital pathways that would support patients in their own homes and in care homes. The impact has been phenomenal.
We have found a total of 44% admissions had been avoided for Stockport's Stepping Hill Hospital, for the nearly 900 patients who have been on the programme. And an estimated £6m has been saved for the health economy.
The Dignio project started with a focus on residents with COPD, who often see a spike in admissions during winter, sometimes because people get anxious about their condition. Through remote care and contact with healthcare professionals who can intervene early if needed, we have worked to diminish that anxiety and avoid the need to call in an ambulance when the resident feels they might deteriorate.
In practice, this has worked by giving the individual a very easy to use app in their home, with a different version of the app also provided to care home teams. The app is connected to devices in the home, to make it easy to capture vital signs and other important information. The data is sent to a triaging team who monitor patients through a dashboard, and who can alert healthcare professionals to act.
It means we can pick up at the earliest point that they might have a chest infection, for example, before the individual even knows, and before it becomes too problematic. You then provide an intervention – for instance an antibiotic at an early stage to fight the infection. In doing so you are better able to keep people at home to treat them, rather than them deteriorating to the point they need an admission.
We expanded the project to support more and more patients – including support for COVID-19 patients at home.
It's fair to say that our decision to invest in this approach faced some resistance initially – but some of those who were hesitant have since approach me to say "hands up, you were right to do it".
In November 2019 when we invested in this no one saw COVID coming, but we now have the tools to keep people safe and well out of hospital.
Mark Fitton is director of adult social care at Stockport Metropolitan Borough Council, and also holds a technology role for the Greater Manchester Health and Social Care Partnership