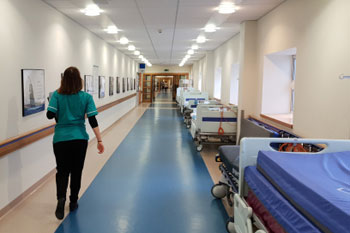 Council leaders have warned the £1.8bn cash injection into the NHS will only be effective if the adult social care funding crisis is also addressed.
Prime minister Boris Johnson has announced a new £1.8bn funding boost for the NHS to upgrade outdated facilities and equipment and deliver the most urgent infrastructure projects.
Mr Johnson said: 'Today I'm delivering on this promise with a £1.8 billion cash injection – meaning more beds, new wards, and extra life-saving equipment to ensure patients continue to receive world-class care.'
The funding will enable 20 hospitals to be upgraded.
However the Local Government Association (LGA) called on the Government to ensure the adult social care system is also supported.
Cllr Ian Hudspeth, chairman of the LGA's Community Wellbeing Board, said: 'While is important that the NHS is adequately funded, it is clear that there cannot be a sustainable health service without a sustainable adult social care system.
'The prime minister has promised to bring forward proposals for a long-term solution to the adult social care funding crisis. It is vital that the Prime Minister plugs the £3.6bn funding gap facing adult social care to keep services running. This is the best way to reduce pressure on the NHS and keep people out of hospital in the first place.'
Photo: Pegasus Pics / Shutterstock.com