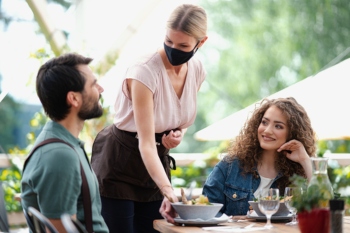 Councils have been told pavement licenses will be extended for a further 12 months to support the reopening of outdoors hospitality.
Local government secretary Robert Jenrick has written to local authorities to outline the measures the Government are taking to allow hospitality venues to serve people outdoors from 12 April at the earliest.
Local authorities have been told they must grant licences unless 'there are good reasons not to' such as plans for future changes in use of road space.
Planning permission will not be required for communities to hold outdoor events, pubs to erect marquees for up to two months, or for venues to provide takeaway services.
The letter said: 'The planning changes we put in place last year have been a lifeline to many businesses and they're here to stay for the summer of 2021. To that end, I am pleased to announce that we will be extending pavement licences for a further 12 months, making it easier and cheaper for pubs, restaurants and cafes to continue to make al fresco dining a reality with outside seating, tables and street stalls to serve food and drinks.
'We are also continuing to support local communities hold popular outdoor events like summer fairs, car-boot sales, and markets, without the need for planning permission.'