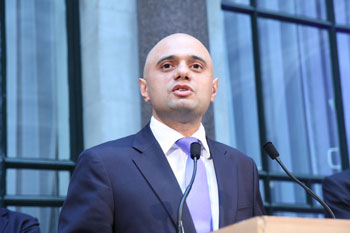 Home secretary Sajid Javid will this week announce a new legal duty which will require local authorities and other public bodies to prevent and tackle serious violence.
The new 'public health duty', which will cover the police, councils, and local health bodies, will ensure that services work together to share data, intelligence and knowledge to help understand the root causes of violent crime.
The new duty will hold organisations to account as opposed to individual teachers, nurses or other frontline professionals.
'Violent crime is a disease that is plaguing our communities and taking too many young lives,' said Mr Javid.
'It's crucial that we all work together to understand what causes violent crime in the first place, so we can intervene early and prevent this senseless bloodshed.
'I'm confident that a public health approach and a new legal requirement that make public agencies work together will create real, lasting long-term change.'
The Government will also amend the Crime and Disorder Act to ensure that Community Safety Partnerships, which include local police, fire and probation services, have a strategy in place to tackle violent crime.
New guidance will also be published to provide examples of different partnership models and explain how different organisations and sectors can partner with each other.