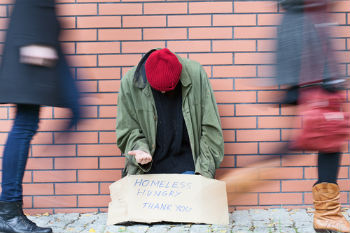 The communities secretary Sajid Javid announced last Friday a new £30m fund to support local authorities with high numbers of people sleeping rough.
The new package of measures to tackle rough sleeping, launched before the Homelessness Reduction Act comes into force this week, also includes the creation of a new Rough Sleeping Team.
The new team will be made up of rough sleeping and homelessness experts drawn from, and funded by, the Department of Health and Social Care, the Ministry of Justice, the Home Office, and other departments and agencies.
It will work with the recipients of the £30m of funding to help them develop tailored local interventions to reduce the number of people sleeping on the streets.
Mr Javid also said £100,000 would be made available to support frontline Rough Sleeping workers across the country to make sure they have the right skills and knowledge to work with vulnerable rough sleepers.
'This winter has tragically claimed the lives of a number of people sleeping on the streets. This is completely unacceptable in modern Britain,' Mr Javid said.
'No one should ever have to sleep rough and this government is determined to break the homelessness cycle once and for all.
'Tackling the causes of rough sleeping is undoubtedly complex but we must do all we can - working across central and local government, the voluntary and charity sector - to help the most vulnerable in society and eliminate rough sleeping for good.'
Welcoming the communities secretary's announcement, Cllr Martin Tett, the Local Government Association's (LGA) housing spokesman, said: 'Rough sleepers are vulnerable to crime or exploitation and are likely to have complex support needs.
'This additional funding will help some councils - with their partners - to provide extra support to reduce rough sleeping.
'We are working with the Government on a longer-term approach to eradicating rough sleeping.
'Beyond this initial investment, we look forward to the launch this summer of the Government's strategy and investment plans to end rough sleeping and to tackle homelessness.'
However, Cllr Tett also called on Whitehall to give councils the freedom to be able to borrow to invest in building new affordable homes.