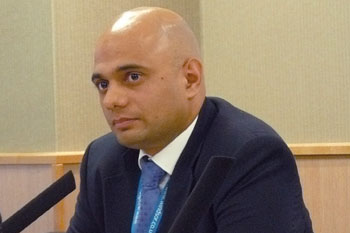 Not enough cash from the principal support grant is finding its way to parish and town councils because 'too many top-tier councils' are not following the Government's guidance, Sajid Javid says.
In a speech at the National Association of Local Councils (NALC) annual conference yesterday, the secretary of state for communities and local government reaffirmed his commitment to devolution and localism and called on councils to take on more responsibilities.
However, he acknowledged finance was a 'perennial obstacle' and said not enough cash was being passed on by principle authorities to parish and town councils.
Mr Javid praised local authorities for finding innovative ways to raise money and make savings to save money for local taxpayers.
'But I also know that not enough cash from the principal support grant is finding its way down to your level. And that's just not right,' he told the NALC audience.
'Principal authorities should be devolving responsibilities to local councils because you are best placed to deliver more tailored services, not so that they can save a few pounds and get important work done on the cheap.
'They certainly shouldn't be using parish precepts as a means of avoiding their own cap on council tax increases.'
The secretary of state continued that the Government had issued guidance to billing authorities which stated they should work with parish and town councils to pass down appropriate levels of funding.
'But from my conversations with you, it's clear that too many top-tier councils aren't following that guidance closely enough,' he said.
'So let me promise you all today that I'll be exploring ways in which I can strengthen the requirement for principal authorities to pass a share of local council tax support to their towns and parishes.'
The Government is cutting funding to the local government sector with the aim of phasing out the grant by 2020.