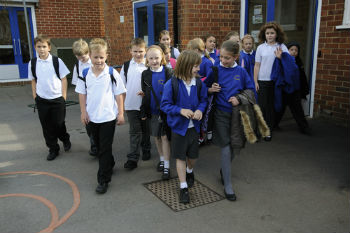 The Isle of Wight has launched a consultation on whether its policy on school holidays could include cutting the summer break and making half terms longer.
It follows a legal battle last year in which a resident won a High Court victory after refusing to pay a £60 fine imposed by Isle of Wight Council for taking his children out of school for a week's holiday in Florida.
Judges dismissed the council's challenge to a ruling in favour of Jon Platt by local magistrates and said they were right to take the 'wider picture' into account.
Announcing the review Paul Brading, the council's cabinet member for children's services, said: 'This consultation will be about taking all the key issues into account and framing school term dates that really work for the Island.
'We understand how important it is for families to spend quality time together at the right time for them.
'It was our pledge to examine options to give families more choice over when they take their holidays, while at the same time making term lengths more even.
'Our unwavering aim is to further improve attendance which will then drive up educational standards so we have all our schools rated 'good' or better by Ofsted.
The council has also decided to try and continue its children's services partnership with Hampshire County Council.