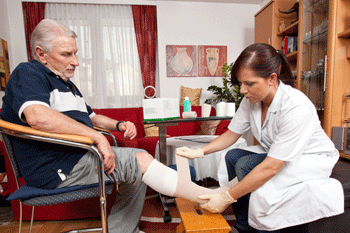 The integration of social care and health services by 2020 is at 'significant' risk as progress has been slower and less successful than expected, the public spending watchdog has warned today.
In a new report, the National Audit Office (NAO) said the Better Care Fund has failed to deliver value for money so far and has not met its financial and service targets over 2015-16. This includes reducing the rates of emergency admissions and the number of days lost to delayed transfers of care.
The damning report also found that while 90% of local areas felt the Fund had improved joint working, there is no 'compelling' evidence to suggest that integration leads to sustainable financial savings or reduced acute hospital activity.
The NAO is calling for evidence on how best to improve care and save money through integration
Amyas Morse, head of the NAO, said: 'Integrating the health and social care sectors is a significant challenge in normal times, let alone times when both sectors are under such severe pressure. So far, benefits have fallen far short of plans, despite much effort. It will be important to learn from the over-optimism of such plans when implementing the much larger NHS sustainability and transformation plans.
'The Departments do not yet have the evidence to show that they can deliver their commitment to integrated services by 2020, at the same time as meeting existing pressures on the health and social care systems.'
In response, the Association of Directors of Adult Social Services (ADASS) said the findings were 'not surprising' as integration is not the answer to improving social care.
'The risk of integration is that it focuses on structure whereas the focus should be on the potential to improve outcomes,' said Margaret Willcox, president elect of ADASS. 'The NHS can only be protected if social care is protected too, and the case for a single, shared and sustainable funding settlement is overwhelming.
'Sustainable systems should be geared to keeping people well and preventing escalation. It is deeply worrying that people's needs are not prevented from escalating because of an absence of GPs, physios, social care and inclusive employment.'