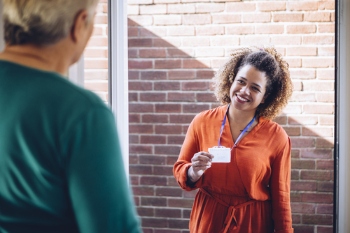 Lower-paid health and social care workers have experienced bullying, racism and harassment at work, an inquiry conducted by Britain's equality regulator has heard.
Launched by the Equality and Human Rights Commission (EHRC) in November 2020, the inquiry examined the experiences of workers from ethnic minorities employed in lower-paid roles in the health and adult social care sectors across England, Scotland and Wales.
The final report reveals how many of these frontline workers experienced bullying, racism and harassment. It also warned that poor data collection by their employers could be masking the true extent of discrimination.
The inquiry found that job insecurity in the health and adult social care sectors caused fear of victimisation among low-paid ethnic minority staff, particularly if they were to raise concerns.
The findings highlighted that in England and Wales, ethnic minority workers were more likely to be employed on zero-hour contracts and job insecurity contributed to the fear of victimisation and loss of jobs.
Baroness Kishwer Falkner, chairwoman of the EHRC, said: 'Health and social care staff, particularly those on the frontline, are among the heroes of the Covid pandemic. They faced significant pressure and risk in keeping us safe. Our inquiry found evidence that low-paid ethnic minority staff also faced discrimination and mistreatment in their workplaces.
'What is more troubling is that a lack of good data may allow discrimination to pass unnoticed. Robust workforce data is crucial so organisations know who works for them and what their employees' experiences are, so they can take action to end bad practice.
'Our inquiry findings and recommendations will help equality and human rights law to be upheld. We will work with government, the NHS, local authorities, regulators and care providers to ensure that the working conditions of lower-paid workers in this sector are improved and that their crucial contribution to our health and our economy is recognised.'
Commenting on the report, UNISON general secretary Christina McAnea said: 'Black workers make a vital contribution to the health and care sector but are all too often at the bottom of the pay scale as care workers, porters, healthcare assistants and catering staff. They frequently face shocking discrimination, threatening their health, job security and life chances.
'Reversing decades of underfunding, privatisation and hostile immigration policies that allow discrimination to thrive are the way to make a lasting difference.
'Ministers can begin to put things right by embedding the real living wage, guaranteeing proper wage rises and ensuring decent sick pay.
'Investment in training and development to improve the chances for neglected staff will also help turn things around.
'But lofty words about reforming health and social care won't mean a thing unless the workforce are treated properly, respected and given the opportunities they deserve to access higher paid roles.'