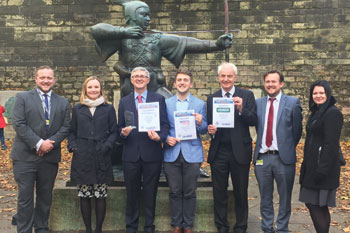 With the latest polling showing two-thirds of residents are happy with the way their local council runs services, LocalGov was proud to be associated with the first ever Local Public Ownership Award.
Organised by campaign group We Own It, the awards were launched to celebrate best practice in council-run services.
From bringing more social workers in-house, to taking back control of waste and recycling services, the shortlist included some of the most inspiring examples of local public ownership from across the UK.
However, it was Robin Hood Energy – the country's first energy company owned by a local authority – that has been crowned the winner of this year's awards. This was followed by Nottingham City Transport who came in second place, and Bristol Energy in third place.
At a special event at Nottingham Castle, Cat Hobbs founder and director of We Own It, congratulated the councils honoured in the awards scheme: 'The decision to create Robin Hood Energy and Bristol Energy were brave, bold decisions in a difficult climate. It must have been a struggle as it's about setting up a new organisation and be the first to put something on the agenda. I want to support that on a personal level.
'You are proof that public ownership can be innovative, it can be inspiring, effective and it can be entrepreneurial. It's really great because now the conversation on energy is changing so it feels as though Robin Hood and Bristol are leading the way. These are dark times of austerity and it feels as though the examples of local public ownership are real beacons showing the way forward.'
1st place: Robin Hood Energy
Launched by Nottingham City Council in 2015, Robin Hood Energy is the first council-owned energy company in the UK. It was set up to give people a cheaper alternative to the 'big six' and tackle fuel poverty in Nottingham and beyond.
Cllr Steve Battlemuch, chair of Robin Hood Energy board, said: 'Robin Hood Energy are extremely proud to have come first in the Local Public Ownership Awards.
'We Own It is a real voice for publicly owned services and it's great to see so many good publicly owned services being highlighted by the awards.
'Hopefully it will inspire more local authorities to follow suit.'
2nd place: Nottingham City Transport
Nottingham City Transport (NCT) is the biggest transport operator in Nottingham, and can boast about carrying some of the most satisfied customers in the country with a 92% rating in 2016.
It is no stranger to winning awards and has been named UK Bus Operator of the Year for a record-breaking fourth time.
Speaking at the event, Graham Chapman, deputy chairperson of Nottingham City Council, explained why public ownership was so important for the economy: 'In order to have a thriving private sector, you need to have a good public sector. The fact we have got so many of our major companies owned by foreign interests – and the money is going abroad or to shareholders – means most of our public sector is under-capitalised. As a consequence, we are not getting the productivity we require.
'There are very good economic and financial reasons why some of these majors companies – gas, electricity, telecoms - should be in public ownership. It makes sense for the economy, for government finance and the public.'
3rd place: Bristol Energy
Bristol Energy was the second energy company to be set up by a local authority and reinvests its profits into the local community. It also offers a 100% green electricity tariff and a discounted tariff for people living in fuel poverty.
This feature first appeared in Local Government News magazine – click here for your free copy