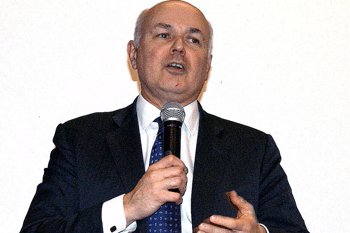 Iain Duncan Smith will continue to oversee the Conservative's sweeping welfare reform as work and pensions secretary, David Cameron has announced.
The former party leader was one of a number of senior figures to retain their cabinet roles, including chancellor George Osborne, home secretary Theresa May and education secretary Nicky Morgan.
Confirmation of Duncan Smith's position as work and pensions secretary came after a controversial five years in the role, where he oversaw roll out of the combination of six benefits under Universal Credit and benefits reductions.
He will now play a key role in Conservative plans to find a further £12bn of mostly-as-yet-unspecified cuts in the welfare budget.
Duncan Smith will form part of what will be the first Conservative only cabinet for 18 years.
Cameron is expected to tell the Conservative 1922 committee that the next five years 'will be all about renewal'.
'It will be our task to renew a sense of fairness in our society – where those who work hard and do the right thing are able to get on,' he is due to say.
'We will make sure our economic recovery reaches all parts of our country – and that includes building that northern powerhouse and delivering the infrastructure we need.'